Did You Notice...
The Rocko's Modern Life folks took a lot of time and effort to pack all of these little details into the show, and it's our job to find them. Here they are - the barely visible visual gags, the throwaway lines and obscure references that give you some insight into the warped minds behind Rocko's Modern Life.
---
Visual Gags - Did you notice...
- while skiing in Snowballs, Rocko first hits a tree, but his second collision is with a cactus?

- the scream-inducing electric "Jumper-Jock" underwear being tested by Conglomo in Canned ?

- that the giant-leg ride at "K-9 Kingdom" in Ed Good, Rocko Bad (a gag in itself) matches the giant hands and arms that appear in the opening of each episode?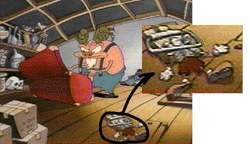 - that in Seymore's attic in Zanzibar, there is a trap containing the remains of a well-known Disney character?
- that Seymore's attic is the same as Ed Bighead's attic in Gutterballs?



- Rocko, Heffer and Filburt playing a board game. Not named in the episode (Gutterballs), it apparently involves spanking the monkey spinner.
- that the shaved poodle who tells Rocko to go to the Eiffel Tour in I See London, I See France is wearing a strategically placed fig-leaf?
- that the trio of singers who back up Dr. Hutchison singing "Sometimes" in Kiss Me, I'm Foreign (before being hit by a bus) also appear in Skidmarks, where they are flattened by "The Fat Guy"?
- that chase scenes such as those in Driving Mrs. Wolfe, Frog's Best Friend and Wallaby on Wheels end up on O-Town's Bullitt Street? (A reference to the 1968 Steve McQueen movie with some classic car-chase scenes.)
---
More Visual Stuff - Artwork in RML
There's enough of this stuff for it's own category. Did you notice...

- that the opening for Nothing to Sneeze At looks a lot like Leonardo Da Vinci's Virtuvian Man?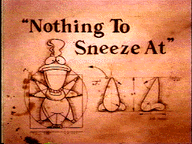 - that the diner the distraught Heffer goes to in Who's for Dinner and Hypno-Puppy Luv is the one from the 1941 Edward Hopper painting Nighthawks?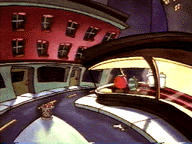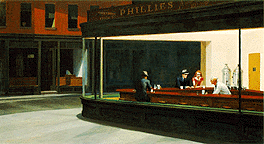 - that the climactic scene from Carnival Knowledge where Rocko receives a finger trap is taken from the hands of Adam and God from The Creation in Michaelangelo's Sistine Chapel paintings?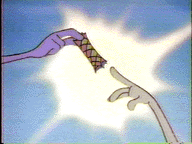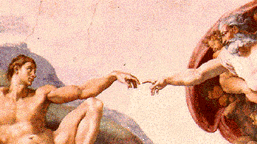 - the portrait of Ed Bighead in Ed is Dead: A Thriller! that bears a strong resemblance to Edvard Munch's The Scream?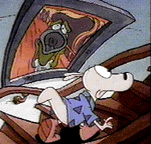 - that Heffer's candy bar-chomping, flying mower scene in Teed Off was inspired by John Falter's 1943 painting Joe Foss (possibly indirectly through John Belushi's character in the 1979 movie 1941). You will note that Mr. Foss actually has a cigar in his mouth, not a candy bar.

---

Audio - Did You Notice...
- that Wallace the elephant has Mike Tyson's voice?

- that the Bighead Studios' Rhino-Tourguide has Mickey Mouse's voice?

- background voices from the TV set like an episode of The Odd Couple in Bedfellows, or Joe Murray's voice saying "Who's show is it anyway?! I'm the genius here! ..." in Wimp on the Barby?

- the way they work little musical quotations into the score, like the old Maxwell House coffee commercial music for the disastrous coffee cup ride in Carnival Knowledge, or Sam the Sham and the Pharaoh's Hey There, Little Red Riding Hood during the tense dinner scene in Who's for Dinner?
---









The Rocko Zone: www.infinet.com/~otown Last updated 12/3/97